SNAP-on INDUSTRIAL TO OFFER

Autocrib
in the UK
---
---
We're pleased to offer Autocrib in the UK. Our industrial vending machines are built like tanks and provide point-of-use inventory management for industrial supplies.
Workers login or simply scan an ID card to issue or return items. The industrial vending system does the recordkeeping automatically just like a tool crib attendant, it can even re-order the products for you!
---
We help reduce consumption of up to 40%, reduce carrying cost, and provide accountability so that consumption never gets out of control.
INCREASE WORKER PRODUCTIVITY
Decentralized POU dispensing is more efficient than a single tool crib location, allowing for shorter waits, and better inventory tracking.
AUTOMATE THE PROCUREMENT PROCESS
Our solutions can automatically build purchase orders and electronically send them to multiple suppliers at predetermined reorder points.
PROVIDE BEST IN-CLASS SUPPORT
Our 24/7 support has a 98% solve rate. Our support portal includes live chat and a knowledge base of 1,000+ articles.
FIX THE WIDEST RANGE OF ISSUES
Our variety of models allows for scalability and customization. No matter what your needs are, we have a solution for you.
What makes industrial vending machines different?
Purpose-built for industrial environments.
Powerful inventory management software.
No cash transactions. Employees log in with their existing employee badge.
User interface designed for making complex inventory transactions easy.
Flexibility to dispense a wide variety of item types and thousands of SKUs.
Doesn't require repackaging.
You can return items back to the dispensing machine.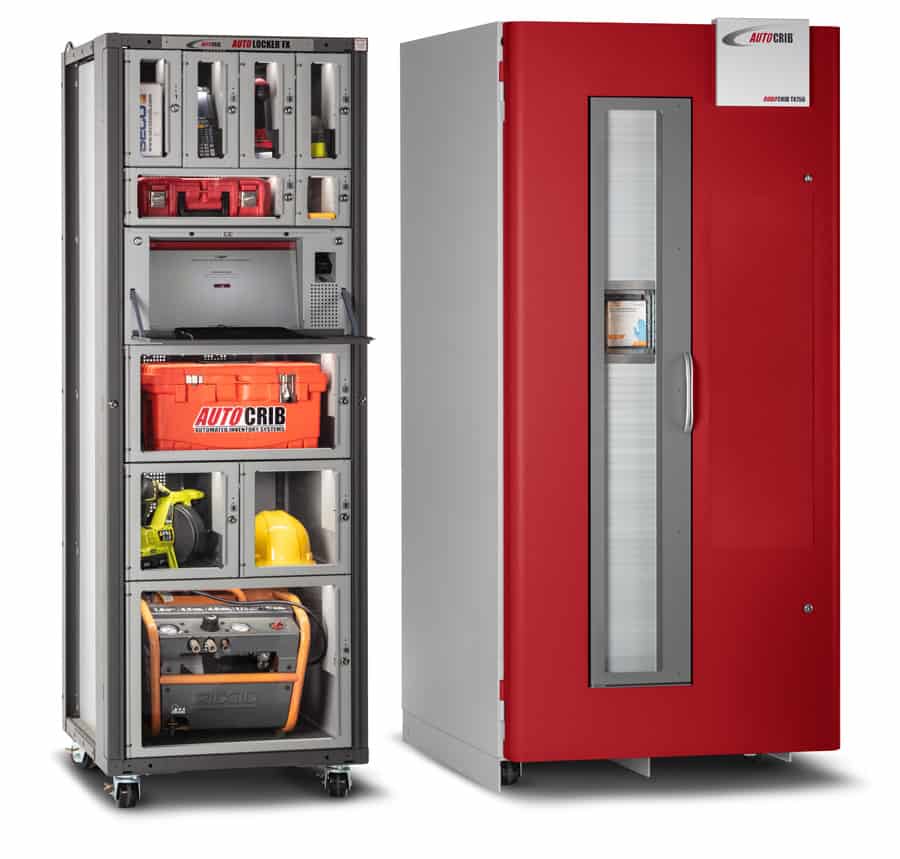 STANDARDIZE YOUR
BUSINESS PROCESS
When you automate inventory management with an industrial vending machine you can replicate best practices across the entire company.
This is the most comprehensive way to implement lean inventory management efficiently and effectively.
With a standardized process and relevant inventory information you can: better bid customer jobs, understand your real-world workflow, trace-back faulty lot controlled items for recalls and forecast inventory levels based on actual demand.
You always know which item they took, when they took it, what job it was used on and how many were taken. You know where your entire inventory is at any given moment with a complete inventory control system.
CAPACITY. SPEED. FLEXIBILITY